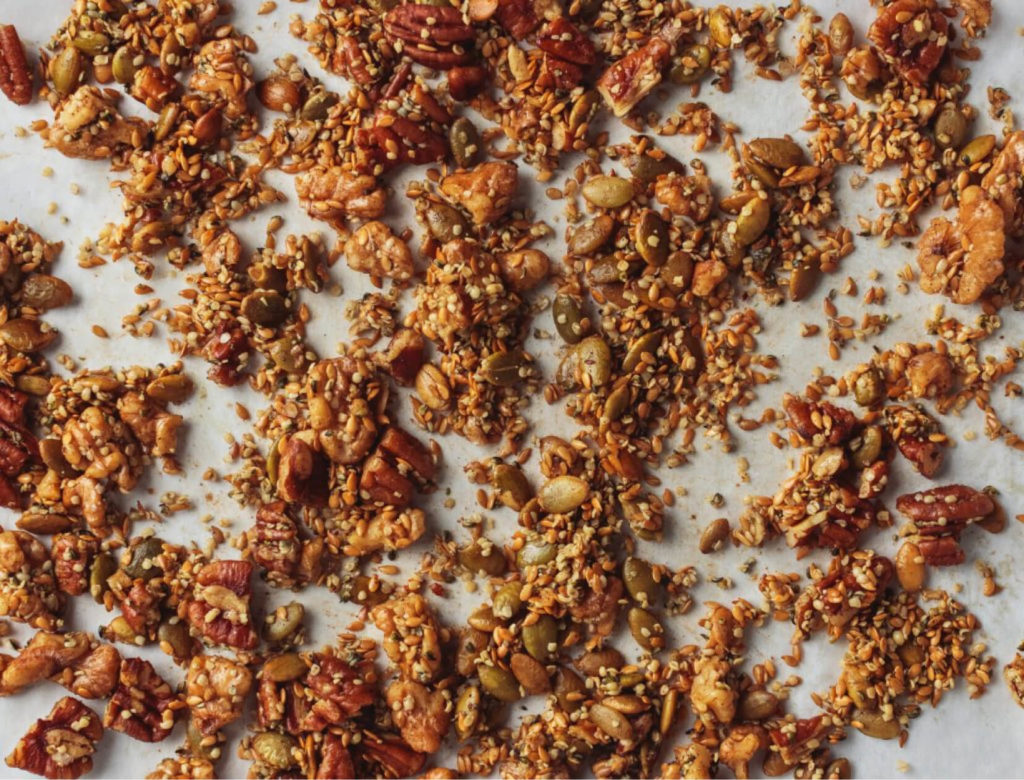 16 Recipes for All-Day Energy
16 Recipes for
All-Day Energy
Having enough energy to soar through your day without lulls or fog is one of the best feelings. Adequate sleep, exercise, and that morning cup of coffee can help you feel fresh and alert, and adding in foods that support a healthy metabolism can help sustain that energy as the day goes on. Metabolism is the process by which your body converts food into the energy that fuels all of your body's basic functions—that includes breathing, blood circulation, growing new cells, and more.
There are some vitamins and minerals that can support this process, and they're widely available in many of the whole foods we eat every day. Niacin, a B vitamin, is in poultry, salmon, tuna, brown rice, and peanuts. Magnesium can be found in pumpkin seeds, chia seeds, almonds, cashews, and black beans. And we can get iron from white beans, lentils, dark chocolate, spinach, tofu, and sardines. We picked some breakfasts, lunches, dinners, and snacks starring one or more of these metabolism-supporting ingredients.
If you're looking to add on to what you're eating, our High School Genes vitamin and supplement regimen addresses multiple systems in the body that contribute to optimal metabolism. Every daily packet includes B vitamins, cinnamon, and green tea extract—to name a few more ingredients that support healthy glucose and energy metabolism. (For those wondering, you can take High School Genes along with the superpowder mentioned below.)*
goop Wellness

High School Genes

goop, $90/$75 with subscription

SHOP NOW
BREAKFAST
Many nuts and seeds contain vitamins and minerals that can support your metabolism, which makes porridges, granolas, and chia puddings an easy way to get energy first thing. If savory is more your vibe, black beans in a scramble or a breakfast burrito will do the trick. If you're in a hurry, add our goop Wellness Metabolism-Boosting Superpowder to a smoothie. It contains a clinically studied dose of 7-Keto® DHEA which can help boost your metabolic rate when combined with a balanced diet and exercise. It also contains a concentrated cinnamon extract that can help maintain blood sugar levels when used as part of your diet, and holy basil, which is traditionally used in Ayurvedic medicine to support balance and a healthy response to stress. It's easy, and that bittersweet chocolate tastes so good.*
goop Wellness

METABOLISM-BOOSTING SUPERPOWDER

goop, $55/$50 with

subscription

SHOP NOW
Grain-Free Granola

This warmly spiced granola works well with yogurt and berries, on an acai bowl, with almond milk, or just as a midafternoon snack.

GET RECIPE

Cauliflower Black Bean Scramble

An egg alternative that looks like the real thing thanks to a little dash of turmeric. It's super savory, and the beans and avocado make it a filling breakfast.

GET RECIPE

Chia Pudding

The possibilities for toppings here are many. We love it with toasted coconut, hazelnuts, and berries.

GET RECIPE

Chocolate Strawberry Pudding Smoothie

If you're into dessert for breakfast, this is the smoothie for you.

GET RECIPE
LUNCH
This group of lunchtime classics has some key players that support a healthy metabolism: brown rice, chicken, sardines, tuna, spinach, and black beans.
Kimchi and Grilled Chicken Nori Wrap

Two shortcuts we love: using cooked sushi rice from the grocery store and leftover grilled chicken.

GET RECIPE

Sardine, Avocado, and Crunchy Veggie Millet Bowl

The furikake is what makes this bowl—don't skip it.

GET RECIPE

Bibb, Avocado, and Tuna Salad with Dijon Tarragon Dressing

If you're packing this for later, be sure to layer the delicate Bibb lettuce at the top of your salad container or jar. It keeps it safe and unbruised by all the other ingredients. We love its texture with the super creamy avocado and rich tuna.

GET RECIPE

Black Bean and Spinach Quesadilla

Double down on greens by using a spinach tortilla.

GET RECIPE
DINNER
So many go-to recipes include ingredients rich in the vitamins and minerals that support the function of your metabolism. Salmon, spinach, lentils, chicken, tofu, peanuts, and white beans are stars in the dinner category.
Lentil and Chicken Sausage Stew with Kale

The coziest stew.

GET RECIPE

Pressed Tofu Lettuce Wraps

We appreciate a lettuce cup around here, and these don't disappoint. It's all about that peanut sauce.

GET RECIPE

Slow-Roasted Salmon with Shallots, Garlic, Coriander, and Lemon

Slow-roasting the salmon in a fragrant oil infused with aromatics—like shallots, garlic, and coriander—feels almost too easy to taste so good.

GET RECIPE

Escarole and White Beans

Bitter greens, like escarole, balance out the richness of cannellini beans and the salty, umami-rich anchovies.

GET RECIPE
SNACKS
Life without snacks? We don't know her. A few of our favorites also happen to keep us feeling energized thanks to white beans, almonds, sunflower seeds, and dark chocolate.
Sweet Potato Chips with White Bean and Basil Dip

A pesto-meets-hummus dip that we enjoy equally on the beach, at a picnic, on the go, or on the couch.

GET RECIPE

Rooibos Almond Latte

Blending the almond butter directly into the almond milk gives this latte an extremely creamy texture. And it adds a good amount of healthy fat and protein, which makes for a satiating afternoon treat.

GET RECIPE

No-Bake Sunflower Bliss Bites

These nut-free balls keep for a good amount of time in the fridge, so you can make them in advance for snacking during a busy week.

GET RECIPE

Reishi Chocolate Almonds

These delicious little morsels make a perfect postdinner treat.

GET RECIPE
---
*These statements have not been evaluated by the Food and Drug Administration. These products are not intended to diagnose, treat, cure, or prevent any disease.
---
7-Keto® is a Lonza trademark.
Search more articles here: 16 Recipes for All-Day Energy
Read original article here: 16 Recipes for All-Day Energy
---
Disclaimers and Denial of responsibility..!
---
Denial of responsibility!
TheTopMag.com is an automatic aggregator of all media around the world. In each content, the hyperlink to the primary source is specified. All trademarks belong to their rightful owners, all materials to their authors. If you are the owner of the content and do not want us to publish your materials, please contact us by
email – jamesonline999@gmail.com
. The content will be deleted within 72 hours.