A break from the sports business best practices, sort of…
The past week we got some good news that our son Andrew was venturing out for his first post-graduate fulltime job, which he will start next week. He has been hustling with parttime gigs since graduating from Drexel, and it is with a great sense of pride that we see his grit paying off. It got me wondering back to thios early jobs, including one I had in the sights as I turned 25…a number he will hit next year…
The summer I was 25 was 1988, and I was in my second year as Assistant Director of Marketing and Public Relations for SportsChannel, on Long Island. If you are interested in the business of sports and don't know what SportsChannel, and what became SportsChannel America was, then you should do a quick history search, because the leadership there…Jeff Ruhe, Marc Lustgarten, Tom Chestnut, Michael Lardner, Jerry Passaro, Jeff Genther and my bosses Larry Wahl and then Rich Kahn…literally rewrote the book on what became the regional sports networks, and even had a bit of "shock the world" when a large and challenging bid (one which I literally delivered and placed in the offices of the NHL) gave SportsChannel the national contact for the NHL at a time when no one had ever figured out how regional networks could work together.
But back to 1988 for a few and how it became a great example of the value of the relationships we have and cherish. That summer, I was tasked with finding things the channel could do in and around the broadcast of BOTH the Mets and the Yankees (SportsChannel had the cable rights to both for several years), and one of the things we came up with was finding New York's Top 10 Sports Bars. So myself and several colleagues, along with the great Bill Raftery, spent the summer chasing and eating and drinking for free at a pretty eclectic list of bars, most of which are now gone (The Ebbets Field Café, Runyons, the Crows Nest in NJ and Bobby Valentine's in Stamford, Ct. are two that is still there). It was also a summer where I started to refine what Tom Chestnut, who was then GM, called my fascination living on "the lunatic edge of sports and entertainment," a place where happily, I still reside today. I got to listen to announcers like Mel Allen, Mickey Mantle (who had just opened his restaurant on Central Park…and yes that made the list), Hawk Harrelson, Fran Healy…call games that summer and find ways to get coverage of broadcasts, while then also trying to find ways to promote and other various and sundry specials the network had. We also had Tom Seaver Day (Tom was also on the broadcast crew), and I had a front row seat to all those festivities and prep for a July Sunday (the first place Mets, shockingly, lost to the very young Atlanta Braves in a harbinger of what would be a multidecade long frustration for the Amazins) and a host of other elements that made the summer of '88, for a 25 year old from New York, pretty unique, more than what I realized at the time. Also that summer I ended up on a road trip between Milwaukee and Chicago, back and forth, to see the pennant chasing Red Sox play the Brewers while the Mets played the Cubs, with an old friend, Happy Fine. It ended up being more momentous than we knew, as a rainout canceled what was to be the first night game at Wrigley Field, and we ended up actually being there for what became the historic first game under the illuminated Ivy at Wrigley.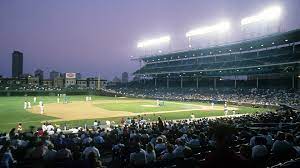 As summer moved towards fall I also ended up in the bowels of Shea Stadium, just outside the Lockerroom, as the Mets clinched the 1988 NL East pennant, and got to see what a celebration of that magnitude was like, and I also had a seat, even though we weren't carrying the games, for all three of the Mets home games in the Championship Series with the LA Dodgers, which included a very late night LA comeback that doomed New York, and sent LA on to their legendary Kirk Gibson led title (one which did not recur until last fall's World Series). That summer also came another idea…to televise live high school football and basketball for the first time on a national level. Although that didn't happen until the next year, 1989, the first plans were hatched during that summer of 1988.
Aside from the places, there were so many people who made that summer special, SportsChannel colleagues, through the beauty of Facebook or through meetings in random places or work events, that I still see to this day…Kevin Meininger and Ann Priebe, Paul Rubin and Doug Field, Jackie Lyons and Jerry Passaro, Mark Callahan and Steve Mars…all of whom I remember and still encounter fondly. Now how I ended up in that place at that time at that age was again a product of the people who gave me a chance to create, learn from mistakes and grow personally and professionally. I was reminded of those opportunities when my first SportsChannel boss, the person who brought me in, in 1987, Larry Wahl, passed away in Miami last year. Larry was another of those amazing characters you met along the way, former Yankees, University of Miami and Orange Bowl head of Communications who led a charmed, gentle and blessed life, and is one of those summer of '88 folks (he left that summer to head south) I will never forget.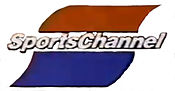 Now the postscript from the summer and early fall of '88 is also key, as it was my last summer of SportsChannel. I left later that fall to return to my alma mater, Fordham University, as Director of Sports Media Relations, but that's another story.
For this one…a summer of '88, at 25, was quite an amazing one of growth and lifelong friendships, ones reminded by one of my own, as AJ heads off on an adventure of his own.
And now back to our regular best practices…