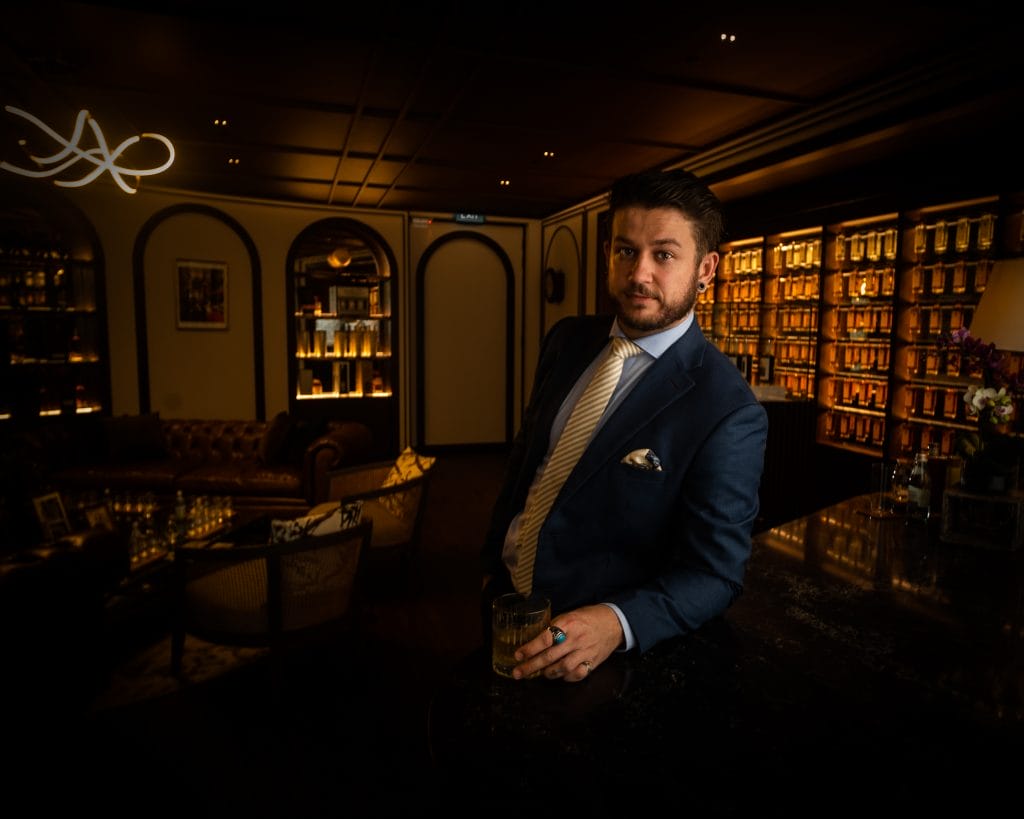 Frankly, the Burnt Ends and The Balvenie collaboration makes perfect sense to us. The former is one of the world's top 50 restaurants (getting a reservation seems to be harder than getting a Birkin) and the latter, fuelling good times since 1892. Together, the "Handcrafted By" menu (a whisky-paired menu) will put some hair on your chest. But, we'll leave it to The Balvenie regional brand ambassador, Bayly (if you have the pleasure of talking to him in person, beware of his powerful eye contact) to talk us through the collaboration.
—
Hi Brett, if you could liken the Burnt Ends and The Balvenie collab to a song collaboration, what would it be?
Straight out that gate! [Laughs] That's a tough one! A singular song to highlight the passion and creativity exhibited by our crafts-people from both sides of this partnership.
I have a bit of a heavier alternative music taste, and one of my favourite tracks comes to mind by a band called Thrice. They released a series of EPs years ago called "the alchemy index" that brought the four elements together through this exploration of musical styles. With that, the appropriate track to choose for me would be "Firebreather" which brings this controlled imagery to mind of the aggression of cooking with fire, and the complexity of maintaining a free mindset in the face of challenging times.
The lyrical body really talks to me about the passion delivered from a challenging pursuit, and we definitely saw the passion from both sides come together on this. The explosive flavour in the dishes created by Dave and the team, mimics the total ambiance behind the song, and the repetition of lyrics throughout really reminds me of the dedication to a singular goal which is to create something truly unique, unhindered by expectation, and all coming from the heart.
—
What did The Balvenie see in Burnt Ends and what did they perhaps see in The Balvenie to pursue this partnership?
I think we saw something of ourselves in Burnt Ends — by choosing to do things the right way, not the easy way. Anyone can turn on an oven or a cooktop, but to go through the process of sourcing only the highest quality Jarra to burn, understanding the thermal physics of their cooking tools, the impact it has on their ingredients — it all reminds me so much of the distillery.
There is this unique connection between mind and heart when you're cooking in such a manual condition! You can't simply turn the first down; you have to make critical adjustments, understand the importance of time and really feel what you're doing. This is precisely the type of dedication to craft we see at the distillery, and I think Burnt Ends saw that come through when we first approached them!
The Balvenie sits as a unique distillery in Scotland, being the only one to adhere to the Five Rare Crafts — all helmed by David Stewart, who is in essence, our version of Dave Pynt, conducting the chaotic orchestra with poise and passion, ensuring nothing is left on the table at the end of service or in our case, at the point of bottling.
At The Balvenie, we believe that it takes more than functional skill and expertise to create something extraordinary, it is the heart that goes into every dish and The Balvenie expression that makes it truly special. The craftsmanship of woodfired cooking by Dave, and the skill and intuition that is taken from that, is similar to the craftsmanship of making whisky at The Balvenie, and we saw clear synergies between both brands there.
Ultimately, it is about the celebration of the pinnacle of craftsmanship that we saw.
—
Why do you think whisky goes so well with meat?
I think that there is a lost connection in peoples minds about whisky in general! There is so much in similarity to the complexity of wine, that it will absolutely stand up against a multitude of proteins, spices and starches. Flavours like Vanilla that come through in whisky are actually derived from compounds called Vanillins, which in themselves are Tannins! Tannins are celebrated in wine and we host wine dinners all the time, so why wouldn't we explore how they interact in heavily concentrated forms, and really see what we can do?
Whisky is a deep and complex liquid, and pairs well with many different dishes. One of the goals of the "Handcrafted By" collaboration by The Balvenie is to educate and show consumers the different and potentially surprising ways whisky can pair with dishes.
Whisky surprises me with how adaptable it really is, and when you involve components from the whisky industry such as peat smoking, we see magic unfold. We were able to secure some peat from The Balvenie distillery and flew it here to Singapore to really see what Dave could do when given the opportunity to experiment outside his normal fuel source. His peat smoked lamb barbacoa almost seemed to come out naturally, with this rich complex and bold whisky, pushing him to build this incredible dish, with rich and expressive spices that only complimented the sherry notes we see. Throw some peat in to give that savoury smoke note, and this really is something special that you cannot get elsewhere.
—
What was the process like working with chef Dave Pynt? What did you take away from the experience?
I had only met Dave once or twice previously, but we're both Australian and I think definitely helped in creating a very quick friendship since we're similar in so many ways.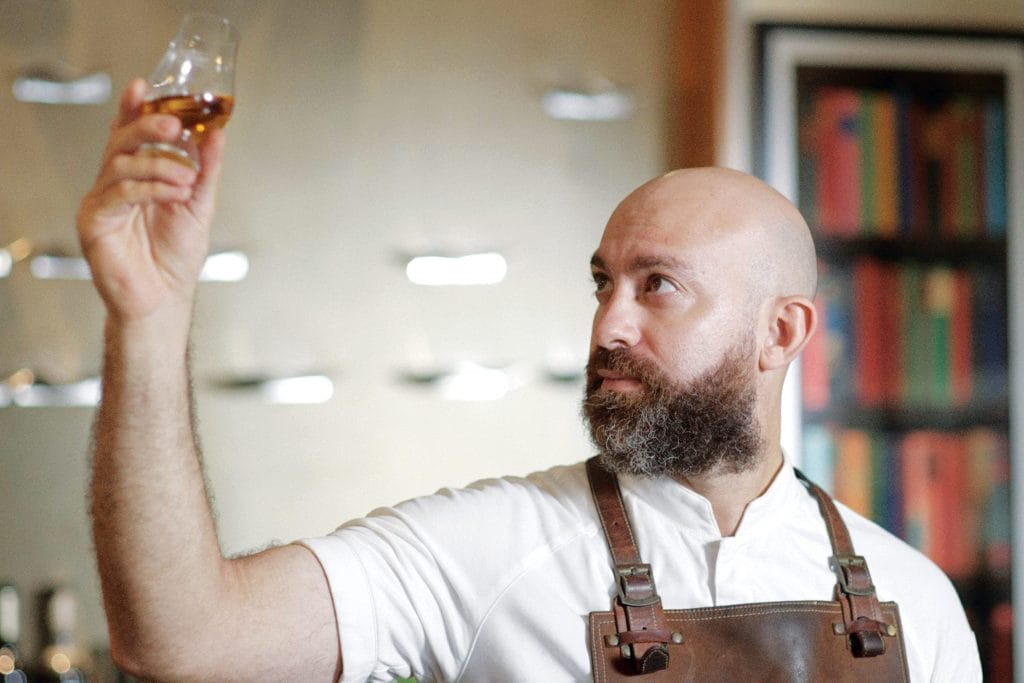 Chef-owner Dave Pynt of Burnt Ends.
Dave is very serious about his craft, but understands that it has to be fun too, and I think we see that in the pairing that transpired. I am very limited in my culinary skill, but a few drams on the table and some talk about the dedication our distillery team have to preserving these unique crafts immediately put us on the same page when looking at what we both wanted to achieve from this.
I was really taken back by just how deep Dave's knowledge of what happens when he cooks with fire was, and it was something I really appreciated, as it's very easy to dismiss just how difficult it is to work with something as raw as wood fire, in such a controlled and precise manner. I watched how he and the team were so in touch with what they were doing, literally a simple touch of a protein, a small adjustment to the elevator grill, all of these were so reminiscent of the experience our team at The Balvenie have.
I also took away that I need to step up my barbecue skills, as Dave has left me in the dust as an Aussie!
—
How were the fine-dining pairings done? What was your number one consideration?
I think the number one consideration was absolutely highlighting the values and ideology of the restaurant partners we are working with. It's one thing to pick a restaurant doing incredibly high-end menus, but to have outlets that really practiced what we preach, maintaining the dedication and passion to really develop things from an emotional point of view. We say at The Balvenie that our whisky is made by heart, and we needed to ensure this was a sentiment the venues shared as well. So, it was a priority for us to work with a partner who emulated the same values and ethos as The Balvenie.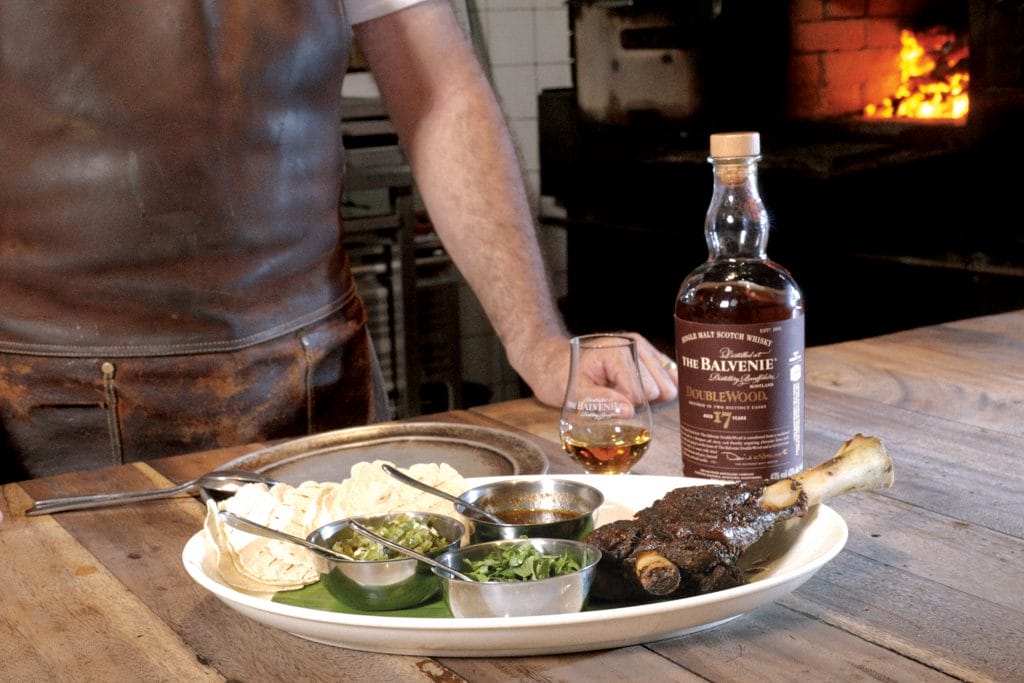 Lamb Shank Barbacoa paired with The Balvenie 17 Year Old DoubleWood
Outside of this, I think the second thing was to respect the vision of our partner chefs, and really trust their capacities as crafts people in their own right. Thankfully no one is handed a star overnight, and the lifetime of focus and dedication just as we emulate it at The Balvenie, really allowed us to collaborate beautifully.
—
What is the number one thing you'd like Burnt Ends's customers to take away after this awesome experience?
For myself, I think it's an understanding of what it takes to create something as special as a fine dining whisky pairing, and that while whisky and high-end cuisine is serious business, you can still have a little fun along the way! So much effort goes in on both sides for us to gulp it down in a matter of minutes or seconds, but that small moment in time is the hard work of literally hundreds of people who have put their whole lives behind getting to that point.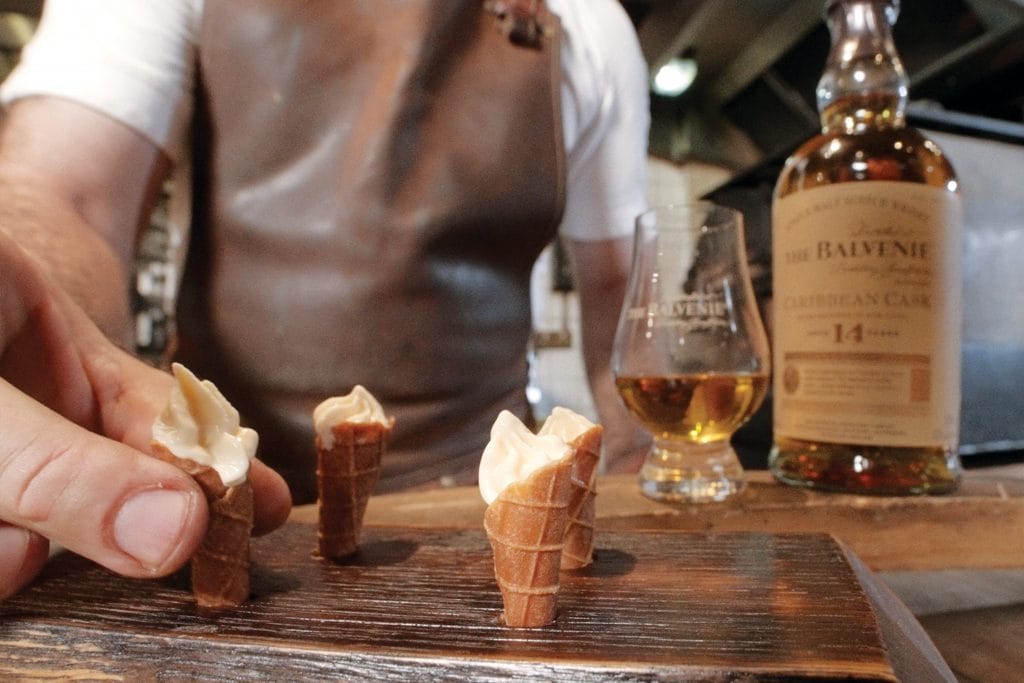 Whisky Ice Cream paired with The Balvenie 14 Year Old Caribbean Cask
This partnership in particular really should push people's idea of what a whisky pairing is, as there will be some really bold flavours, and we're jumping all over the flavour map, with savoury, sweet, sour, bitter, it's a bit of everything.
We want customers to take away a newfound or deepened appreciation for fine dining and whisky paired dishes from this experience. The collaboration with Burnt Ends presents opportunities for diners to unlock new knowledge and techniques on single malt appreciation and fine-dining pairing because each expression of The Balvenie is so carefully crafted and pairs perfectly with different cuisines. There are so many different flavour profiles of dishes and when paired with different whiskies, there's a whole world still left unexplored.
—

Out of curiosity, what is your #1 song on your Spotify this year?
[Laughs] Back to the music, I love it! Right now, I've been mostly listening to music at the gym and my taste is quite eclectic, but it's another heavier track by an Australian band called Polaris, called "Pray for Rain" and it's a beast! Cheers.
Once you're done with this story about The Balvenie and Burnt Ends collaboration, click here to catch up with our September 2021 issue. 
The post Brett Bayly Takes Us Through The Balvenie and Burnt Ends Collaboration appeared first on Men's Folio.
Search more articles here: Brett Bayly Takes Us Through The Balvenie and Burnt Ends Collaboration
Read original article here: Brett Bayly Takes Us Through The Balvenie and Burnt Ends Collaboration
---
Disclaimers and Denial of responsibility..!
---
Denial of responsibility!
TheTopMag.com is an automatic aggregator of all media around the world. In each content, the hyperlink to the primary source is specified. All trademarks belong to their rightful owners, all materials to their authors. If you are the owner of the content and do not want us to publish your materials, please contact us by
email – jamesonline999@gmail.com
. The content will be deleted within 72 hours.