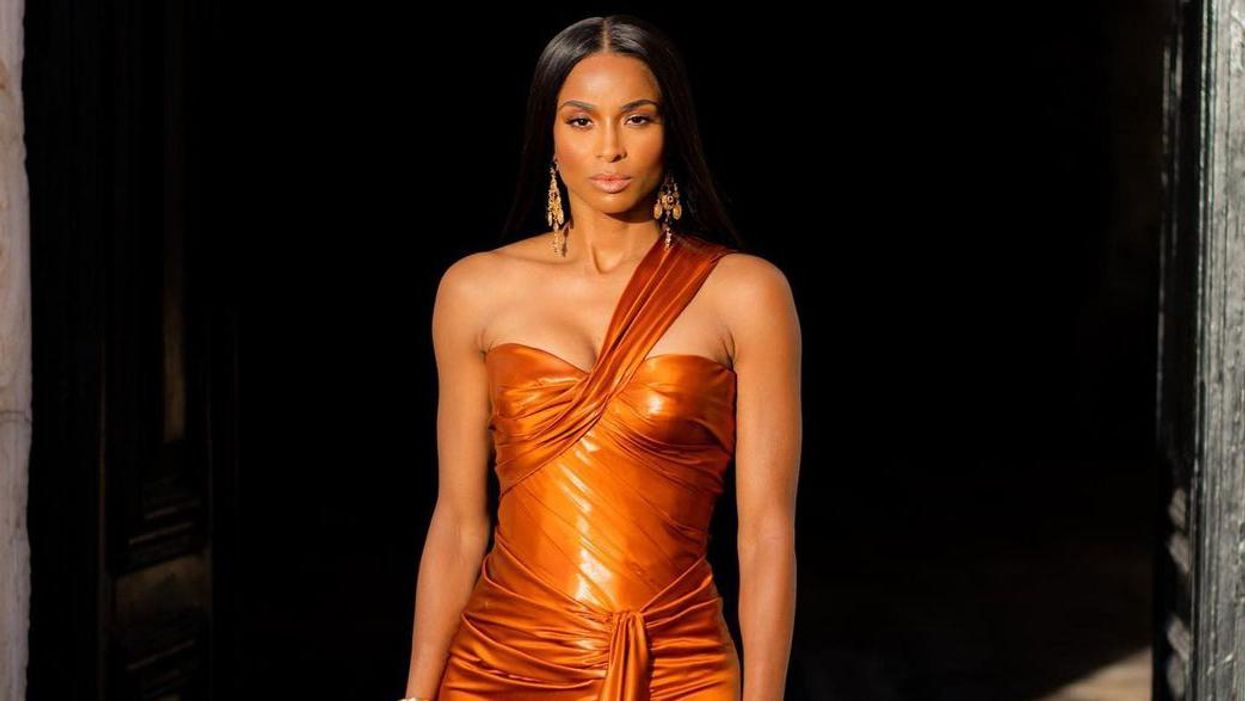 Perhaps my favorite part of my Zoom with Ciara—a Grammy winner who has released countless classic songs from "1, 2 Step" to "Body Party"; a fashion icon; a person who always looks like she is living her best life, from the red carpet to Instagram—is when a moth dive-bombs her head.
"There's a moth flying around my island," she says calmly in an oversized black sweater, her long tresses styled without a hair out of place, on a cream-colored couch surrounded by no less than eight fluffy pillows. "I just learned that moths eat into your clothing." I mention that they enjoy wool and she glances off-screen. "It's on my wool jacket."
She only breaks character for a second to dart off screen—and then she's back and ready to talk business. During our half-hour chat, in celebration of Dare to Roam, her new line of antimicrobial backpacks and other accessories, we touch on her "tomboy chic" style, her TV-watching philosophy, and her secret-weapon eye mask.
Ciara's day starts with a prayer—and a smartphone
"Every day, we wake up and my husband [Seattle Seahawks quarterback Russell Wilson] always beats me out the door, because football starts early," she says. "We always do a quick prayer before he leaves, which is really sweet. Sometimes I'm like, one eye open, one eye shut. But we always do that, and that's always great."
If you send Ciara a late-night text, she'll see it first thing. "I will say I'm that person that checks my phone shortly after I wake up to see if there are any high-level things I need to answer right away or check in on my schedule for the day, so I can know what to look forward to," she says. "And then I get up and I charge away at it."
Now that she's a mother, her mornings are a little less chill—and start a bit earlier. "Before having kids, I could just roll into the morning, ease into changing," she says. "But now I always have to get dressed right away so I can go in, wake up my little ones, and all that good stuff."
This is not a household of night owls. "Russell's out the door at 5:30 or 6:00 at the latest," she says. Her seven-year-old, Future (named after her similarly mononymous ex), gets up around 6:20 AM. "And when he's up, I'm up," she says. Her children with Wilson—four-year-old Sienna and one-year-old Win—are up shortly after.
"Sienna's now starting to wake around 6:30, 6:40," she says. "I'm like, what's going on? She used to sleep till nine o'clock. And then Win is starting to also get up around the same time. So I guess I would say 6:30 is my thing."
One marriage nonnegotiable: TV synchronicity
In the evening, Ciara likes to wind down with Wilson and a TV show du jour. "The day ends almost how I start," she says. "I check off any things that are on my list that need to get done. We prepare for the next day. And if we're lucky with our time and it lines up right, I watch a TV show with my husband."
They're watching a lot of Kevin Costner these days. "We like watching
Yellowstone right now," she says. "That's our jam, we're catching up on all of Yellowstone. Our rule is—if we're watching a show together, if we started a show together, we cannot watch it separately. And then I will kick back and we'll recap our day. Then we go to sleep."
View this post on Instagram
Her skin-care holy grails are simple
You might think Ciara's skin-care routine would be complicated, but it turns out her go-to routine consists of…washing and moisturizing her face. "I'm a big believer in washing your face two times a day," she says. "Skin care is really important. Masks are really fun as well, I love doing masks," especially
masks from 111SKIN.
"I get my makeup done kind of often for work, which cannot be the best for your skin," she says. "I'm always getting rid of that makeup right away when I can. And then my makeup artist will give me
this eye mask, and you see the difference afterward. You see the plumpness that's kicked in a little bit, it's always really cool to see."
Live to eat, don't just eat to live
Ciara's personal wellness philosophy starts and ends with H2O. "I'm a personal believer in drinking a lot of water," she says. "Water is really important for our skin and really important for our digestive system." As to the way she eats, Ciara is into grazing.
"I try to average four to six meals a day, watching my proportions," she says. "I think that's so important." She notes that people sometimes say, "You can eat what you want to eat all the time," and she agrees—to a point. "I kind of can, but just because I do it in moderation."
Above all, savoring food is the priority. "You should be enjoying yourself and not be so strict on what you eat. I don't think that's fun. That's not a fun life to me, that's not truly living," she says. "Food is so much fun. I'm from the South, so—we love food. I'm a foodie kind of girl, and so for me, I need some good food in my day. That makes my day, personally, or it helps complete the day. A good meal can kind of feed your soul. It's all about moderation."
Changes after a difficult year
For Ciara—who has been nothing if not daring when it comes to her image—using the word dare in the name of her accessories line,
Dare to Roam, dovetailed with the feeling many of us have had about venturing back out into the world after pandemic lockdown. "You think about all we experienced during the pandemic and just how tough this has been," Ciara says. "We all think about being safe in a different way than ever before."
The pandemic was hard on Ciara. "As things started to really ramp up with the pandemic," she says, "it's one thing when it's starting, it's like, 'Oh, OK, what is this?' And then you live through it, and you're like, 'Oh my gosh,' you feel it. We all share stories that are similar or run parallel as far as the feelings that we all feel, our concerns about being safe."
Ciara's first trip this year, once travel was safer, was to Mexico with her family. "We have a place there," she says. It was important to her to go somewhere that felt like home, rather than a hotel or a resort, so she and her family could control the variables and it would feel "really, really safe," she says. "And you know, taking all the measures, the proper measures to keep the community safe. That felt good."
Travel has taken on a new set of COVID protocols, and Ciara is quick to add how vital those are to her and her family. "Obviously, the test before you go, test before you leave," she says. "Everyone was on the same wavelength… I think that was critical and why everything was just fine."
All frills and no edge are a no-go
When it comes to fashion, Ciara gravitates toward edgier looks. "I like to call my style 'tomboy chic,'" she says. "I'm a tomboy." Whether it's a day of errands or a night on the red carpet, she prioritizes playing with masculine and feminine elements. "Even if I get dressy, there's always something that's going to have a little edge to it," she says.
She never wants to stay too safe. "Sometimes I'll try some things just to push myself, because I think that's what fashion is about," she says. "It's about experimenting and trying new things."
Ciara's tomboy chic is her North Star and helps her put the kibosh on things that might feel too frilly. "There are some things I just don't like, it's not my thing," she says. "And I think the tomboy in me kicks in at that moment."
View this post on Instagram
The '90s are everything
"I just feel like '90s fashion will never go out of style," Ciara says. "I think it's so timeless. Nineties is always in the mix. I do find people to be very expressive right now, which is super exciting—I love that part about fashion. I love how you can get to know a person by how they're dressed, get a feeling of how a person is by what they're wearing."
Style as self-expression inspires her. "That's the beauty of fashion, what you wear can say a lot about you," she says. "It's always cool to see other people communicate fashion, how they express their passion."
The '90s weren't just about the looks themselves—they were also about the way things looked on the body. "I love how the jeans fit back then," she says. "There was this cool-girl thing going on in the '90s. Even if you were girlier, it was still cool to be a little edgy. Nineties fashion was understated, but powerful. It was effortless. The ['90s] woman was effortless in her fashion choices, but she was also a force at the same time."
She hopes to be remembered for making a difference
Ciara has worn a great many hats over the years—or should I say beanies? ("I'm that kind of girl that will wear a beanie with a form-fitted dress," she notes.) So—what does she want to be remembered for? Is it her music? Her style? Her family?
"Honestly, when it's all said and done, I hope people say, 'She was someone that really lived, she was someone that really made a difference,'" Ciara says. "It's a blessing to do the many cool things that I get to do in life, and travel the world and see different places and people. I think the greatest and most important desire for me is to impact through it all.
"I hope that people will say, 'She really made a difference, she was someone that believed in her dream and it happened because she believed in it. She believed, and I can believe.' I hope to instill some hope as well into many different people around the world," she says.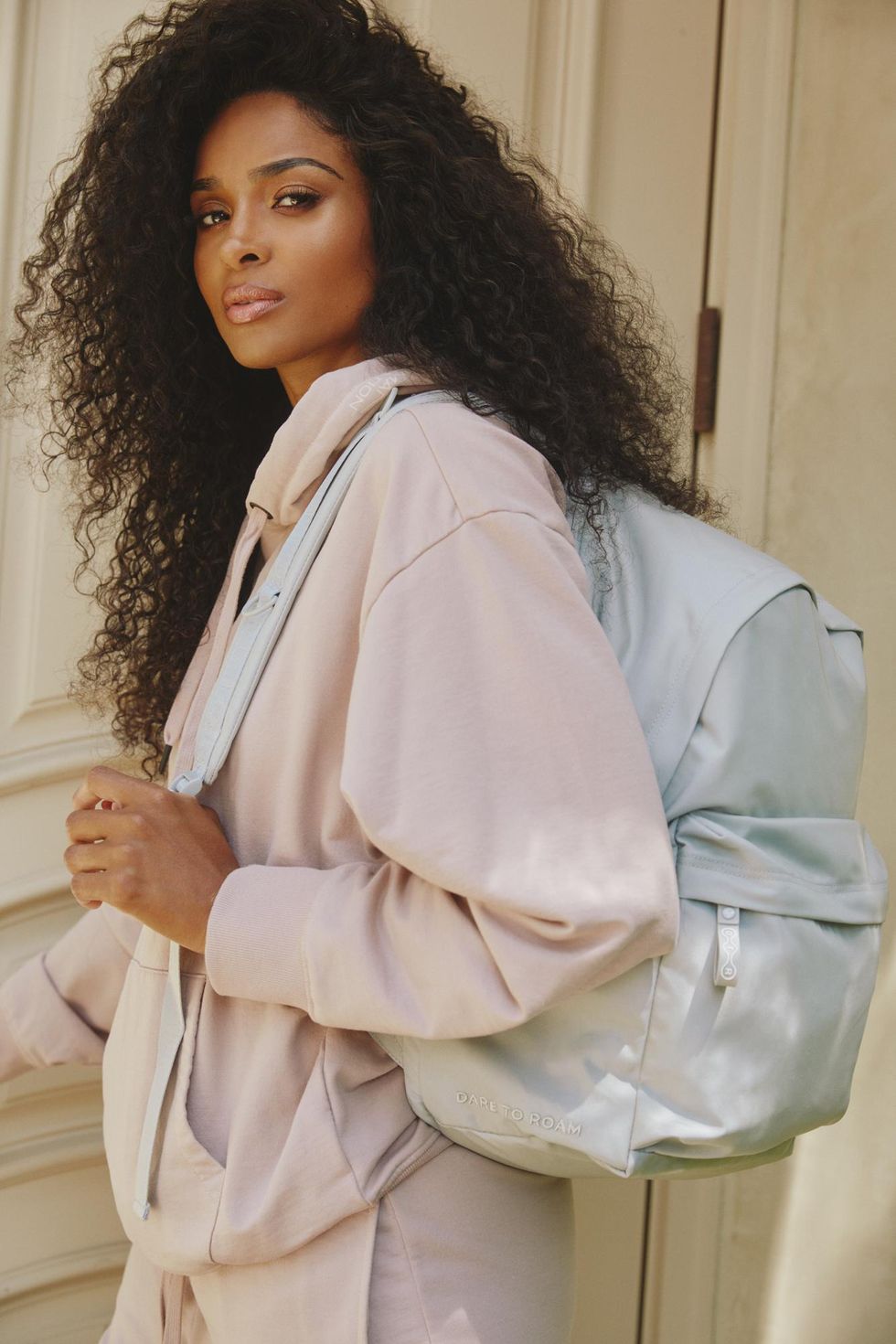 More music is on the way
With seven studio albums, an EP, and 39 singles, Ciara hasn't slowed down in the recording studio. "I can't wait to put out more music again for my fans," she says. "Every process is different. With my next album, I'm in the process of finalizing a few things as far as my creative direction."
Look out for her next album in the not-so-distant future: She's already planning studio time. "This fall will definitely be my recording season," she says. "I'm super excited for new music. I'm itching to create my next video. I really can't wait to be back on set, shooting a video and releasing new music."
Personal success is real success
If Ciara's life sounds like a lot, it is—but she wouldn't change a thing. "I call it organized chaos," she says. "I like the activity, I like the energy. I like being able to have the opportunity to do everything that I've dreamed of. You've got to seize the moment while it's here, and you've got to make opportunities where you can. I want to maximize the opportunities."
She's not planning to go at this pace forever. "My hope is that by the time I'm 50 or 60 years old, I can kick back and enjoy my grandkids if I have them," she says. "I have goals in mind, and I hope that I can keep checking off my business bucket list, and then also there's living bucket lists too. I think it's important to live."
For Ciara, things haven't stayed the same over the course of her decades-long career. "The definition of success has changed from when I first started," she says. "Health is wealth, right? Being healthy is a blessing, and so you really appreciate the simple but important things in life."
Ciara smiles her perfect smile and looks serenely into the Zoom. "My mission is to not only be successful on the business side, but to be successful in life," she says. "I hope my kids will feel comfort in me when they get older and feel like Mom's a safe place. My kids doing well—that's the ultimate level of success. Being able to have success in my personal life and in marriage—this is a beautiful thing.
Those are successful moments in life."
Top photo: Courtesy of Instagram/@ciara
Want more stories like this?
Meagan Good Is Unapologetically Owning Who She Is in 2021 & Beyond
Ayesha Curry's Secrets for Keeping Calm and Glowing On
Jessica Alba on Finding Her Confidence in Hollywood
Search more articles here: Ciara's Life Secrets: '90s Jeans & Marital Respect When It Comes to TV
Read original article here: Ciara's Life Secrets: '90s Jeans & Marital Respect When It Comes to TV
---
Disclaimers and Denial of responsibility..!
---
Denial of responsibility!
TheTopMag.com is an automatic aggregator of all media around the world. In each content, the hyperlink to the primary source is specified. All trademarks belong to their rightful owners, all materials to their authors. If you are the owner of the content and do not want us to publish your materials, please contact us by
email – jamesonline999@gmail.com
. The content will be deleted within 72 hours.