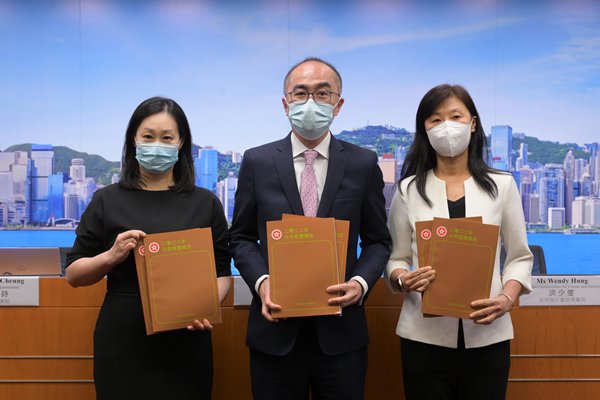 (To watch the full press conference with sign language interpretation, click here.)
Hong Kong's economy improved in overall terms in the second quarter with real gross domestic product (GDP) decreasing at a moderated pace of 1.3% from a year earlier, but the extent of improvement was weaker than expected.
On a seasonally adjusted quarter-to-quarter comparison, real GDP reverted to an increase of 1%.
Presenting the city's latest economic figures and the Half-Yearly Economic Report 2022 at a press conference this afternoon, Government Economist Adolph Leung said that weakened global demand and continued cross-boundary transportation disruptions dragged heavily on Hong Kong's export performance.
Total exports of goods recorded a widened year-on-year fall of 8.6% in real terms in the second quarter.
Exports of services reverted to a mild increase of 2.3% in real terms, among which exports of travel services grew visibly but were still very subdued.
On the other hand, domestic demand showed some improvement in the quarter.
Private consumption expenditure regained lost ground with marginal growth of 0.1% in real terms over a year earlier, thanks to the generally improved local epidemic situation and relaxed social distancing measures as well as the Government's various support measures.
Overall investment expenditure also saw a narrowed decline of 3% in real terms along with improved business sentiment.
Additionally, the labour market improved in the second quarter with the seasonally adjusted unemployment rate falling successively to 4.7%.
Mr Leung noted that the markedly deteriorating external environment will weigh heavily on Hong Kong's export performance, while elevated inflation in the advanced economies and the aggressive tightening of monetary policy by many major central banks will further weaken the global growth momentum.
Nonetheless, the city's economic activities should revive further provided that the local epidemic situation remains under control. The latest adjustments to the quarantine and testing arrangements for inbound visitors should also help exports of services.
"The Consumption Voucher Scheme will continue to support consumption demand, but tighter financial conditions may have some dampening effect on consumer sentiment and spending.
"Rising borrowing costs may also make businesses more cautious in undertaking fixed asset investment," Mr Leung added.
Taking into account the worse-than-expected economic performance in the first half and the sharp deterioration of global economic prospects, the real GDP growth forecast for the year is revised down to -0.5% to 0.5%, from 1% to 2% as announced in the May review.
The forecast rates of underlying and headline consumer price inflation for the year are maintained at 2% and 2.1% respectively.