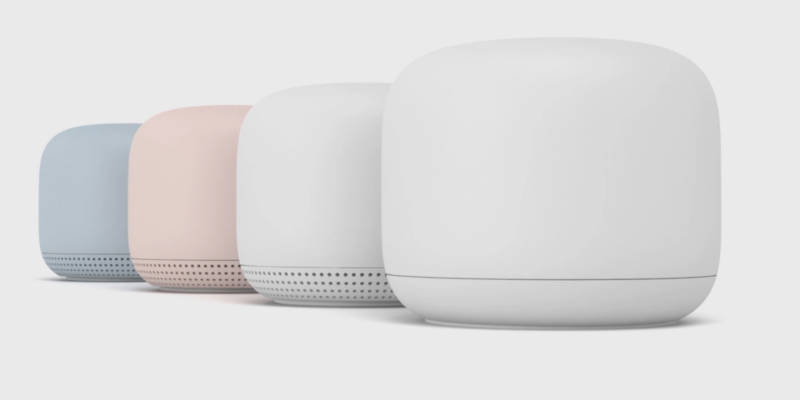 Google's October 6 event is quickly approaching, and a ton of hardware is leaking ahead of time. We already know about the Pixel 7, the Pixel Watch, and the new low-end Chromecast—now, how about the "Nest Wifi Pro"?
Hot off its appearance at the FCC last month, Google's next Wi-Fi router popped up in a retail listing from B&H Photo over the weekend. The listing has been taken down, but 9to5Google, which spotted the listing, has a backup. Emblazoned right in the B&H title is "Wi-Fi 6E" support, which is the big upgrade in this "Pro" model and should lead to a more robust connection. 6E moves Wi-Fi into the 6 GHz range (alongside the existing 2.4 GHz and 5 GHz bands), which will greatly expand the capacity of the shared airwaves all Wi-Fi has to use. If you live in a crowded area like an apartment building, your Wi-Fi performance can be greatly reduced if your neighbors use up all the spectrum. Picking up that new 6 GHz slice of spectrum means more space for everyone.
Including Wi-Fi's latest standard will apparently come with a price increase for the new unit. B&H lists a $199 price for a single unit, while the current Nest Wifi is $169 for a "router" unit. A two-pack of Wifi Pros is $299 (the non-Pro two-pack is $269), while a three-pack is $399 (versus $349 for a non-Pro pack). The "Pro" branding and higher price make it sound like the existing Nest Wifi, which only supports the aging 802.11ac (aka Wi-Fi 5) protocol, will still be for sale.
Read 2 remaining paragraphs | Comments