What is data analytics?
In the world of IT, every small bit of data count; even information that looks like pure nonsense has its significance. So, how do we retrieve the significance from this data? This is where Data Science and analytics comes into the picture. Data Analytics is a process where data is inspected, transformed and interpreted to discover some useful bits of information from all the noise and make decisions accordingly. It forms the entire basis of the social media industry and finds a lot of use in IT, finance, hospitality and even social sciences. The scope in data analytics is nearly endless since all facets of life deal with the storage, processing and interpretation of data.
Why data analytics?
Data Analytics in this Information Age has nearly endless opportunities since literally everything in this era hinges on the importance of proper processing and data analysis. The insights from any data are crucial for any business. The field of data Analytics has grown more than 50 times from the early 2000s to 2021. Companies specialising in banking, healthcare, fraud detection, e-commerce, telecommunication, infrastructure and risk management hire data analysts and professionals every year in huge numbers.
Need for certification:
Skills are the first and foremost criteria for a job, but these skills need to be validated and recognised by reputed organisations for them to impress a potential employer. In the field of Data Analytics, it is pretty crucial to show your certifications. Hence, an employer knows you have hands-on experience in the field and can handle the workload of a real-world setting beyond just theoretical knowledge. Once you get a base certification, you can work your way up to higher and higher positions and enjoy lucrative pay packages.
Top Data Analytics Certifications
Certified Analytics Professional (CAP)

Microsoft Certified Azure Data Scientist Associate

Cloudera Certified Associate (CCA) Data Analyst

Associate Certified Analytics Professional (aCAP)

SAS Certified Data Analyst (Using SAS9

1. Certified Analytics Professional (CAP)
A certification from an organisation called INFORMS, CAP is a notoriously rigorous certification and stands out like a star on an applicant's resume. Those who complete this program gain an invaluable credential and are able to distinguish themselves from the competition. It gives a candidate a comprehensive understanding of the analytical process's various fine aspects–from framing hypotheses and analytic problems to the proper methodology, along with acquisition, model building and deployment process with long-term life cycle management. It needs to be renewed after three years.
The application process is in itself quite complex, and it also involves signing the CAP Code of Ethics before one is given the certification. The CAP panel reviews each application, and those who pass this review are the only ones who can give the exam.
Prerequisite

: A bachelor's degree with 5 years of professional experience or a master's degree with 3 years of professional experience.

Exam Fee & Format:

The base price is $695. For individuals who are members of INFORMS the price is $495. (

Source

) The pass percentage is 70%. The format is a four option MCQ paper.

Salary:

$76808 per year (

Source

)
2.

Cloudera Certified Associate (CCA) Data Analyst
Cloudera has a well-earned reputation in the IT sector, and its Associate Data analyst certification can help bolster the resume of Business intelligence specialists, system architects, data analysts, database administrators as well as developers. It has a specific focus on SQL developers who aim to show their proficiency on the platform.
This certificate validates an applicant's ability to operate in a CDH environment by Cloudera using Impala and Hive tools. One doesn't need to turn to expensive tuitions and academies as Cloudera offers an Analyst Training course with almost the same objectives as the exam, leaving one with a good grasp of the fundamentals.
Prerequisites:

basic knowledge of SQL and Linux Command line

Exam Fee & Format:

The cost of the exam is $295

(Source)

,

The test is a performance-based test containing 8-12 questions to be completed in a proctored environment under 129 minutes.

Expected Salary:

You can earn the job title of

Cloudera Data Analyst

that pays up to $113,286 per year.

(Source)
3. Associate Certified Analytics Professional (aCAP)
aCAP is an entry-level certification for Analytics professionals with lesser experience but effective knowledge, which helps in real-life situations. It is for those candidates who have a master's degree in a field related to data analytics.
It is one of the few vendor-neutral certifications on the list and must be converted to CAP within 6 years, so it offers a good opportunity for those with a long term path in a Data Analytics career. It also needs to be renewed every three years, like the CAP certification. Like its professional counterpart, aCAP helps a candidate step out in a vendor-neutral manner and drastically increases their professional credibility.
Prerequisite

: Master's degree in any discipline related to data Analytics.

Exam Fee:

The base price is $300. For individuals who are members of INFORMS the price is $200.

(

Source

).

There is an extensive syllabus which covers:

i. Business Problem Framing, ii. Analytics Problem Framing, iii. Data, iv. Methodology Selection, v. Model Building, vi. Deployment, vii. Lifecycle Management

of the Analytics process, problem-solving, data science and visualisation and much more.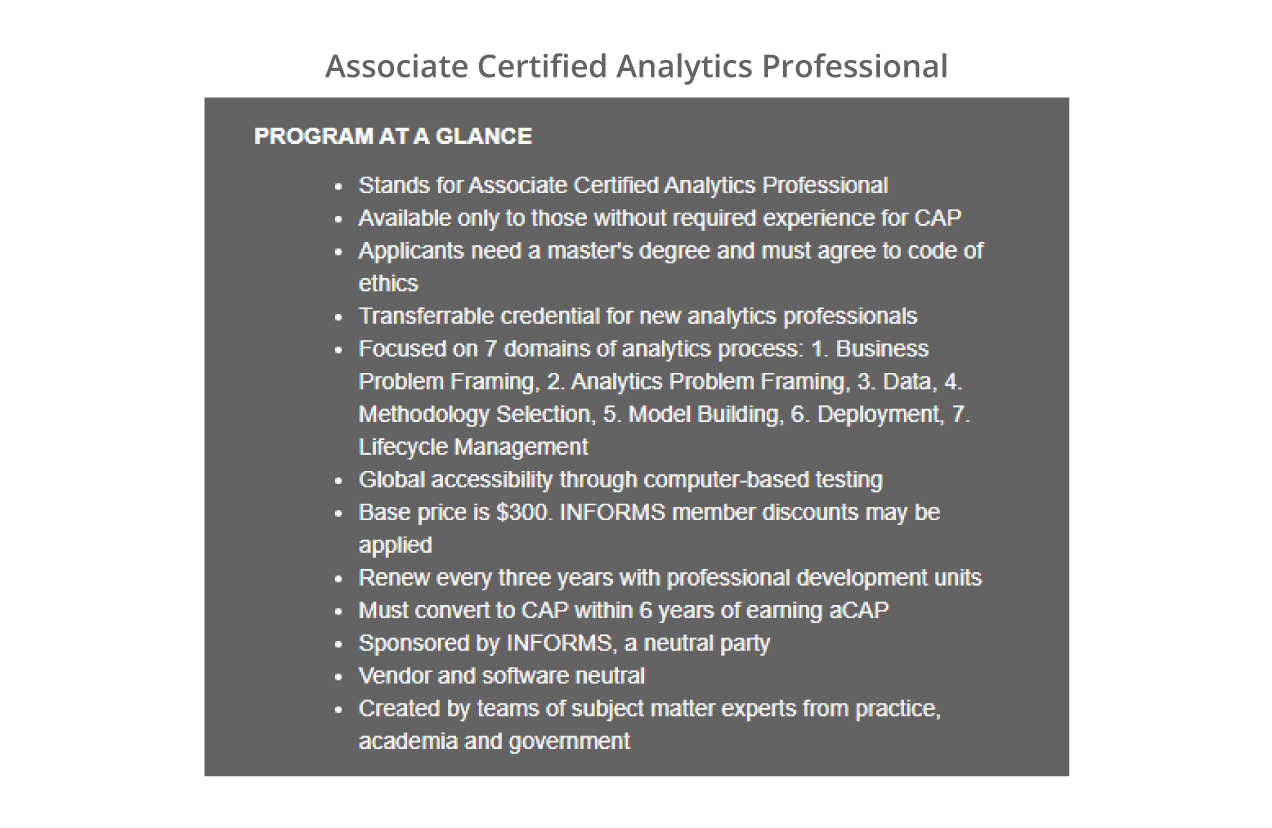 4. SAS Certified Data Analyst (Using SAS9)
From one of the pioneers in IT and Statistics – the SAS Institute of Data Management – a SAS Certified Data Scientist can gain insights and analyse various aspects of data from businesses using tools like the SAS software and other open-source methodology. It also validates competency in using complex machine learning models and inferring results to interpret future business strategy and release models using the SAS environment. SAS Academy for Data Science is a viable institute for those who want to receive proper training for the exam and use this as a basis for their career.
Prerequisites:

To earn this credential, one needs to pass 5 exams, two from the SAS Certified Big Data Professional credential and three exams from the SAS Certified Advanced Analytics Professional Credential.

Exam Fee:

The cost for each exam is $180.

(Source)

An exception is Predictive Modelling using the SAS Enterprise Miner, costing $250, This exam can be taken in the English language. One can join the

SAS Academy for Data Science

and also take a practice exam beforehand.

Salary:

You can get a job as a SAS Data Analyst that pays up to $90,000 per year!

(Source)
5. IBM Data Science Professional Certificate
Whenever someone studies the history of a computer, IBM (International Business Machines) is the first brand that comes up. IBM is still alive and kicking, now having forayed into and becoming a major player in the Big Data segment. The IBM Data Science Professional certificate is one of the beginner-level certificates if you want to sink your hands into the world of data analysis. It shows a candidate's skills in various topics pertaining to data sciences, including various open-source tools, Python databases, SWL, data visualisation, and data methodologies.
One needs to complete nine courses to earn the certificate. It takes around three months if one works twelve hours per week. It also involves the completion of various hands-on assignments and building a portfolio. A candidate earns the Professional certificate from Coursera and a badge from IBM that recognises a candidate's proficiency in the area.
Prerequisites:

It is the optimal course for freshers since it requires no requisite programming knowledge or proficiency in Analytics.

Exam Fee:

It costs $39 per month

(Source)

to access the course materials and the certificate.

The course is handled by the Coursera organisation.

Expected Salary:

This certification can earn you the title of

IBM Data Scientist

and help you earn a salary of $134,846 per annum.

(Source)
6. Microsoft Certified Azure Data Scientist Associate
It's one of the most well-known certifications for newcomers to step into the field of Big Data and Data analytics. This credential is offered by the leader in the industry, Microsoft Azure. This credential validates a candidate's ability to work with Microsoft Azure developing environment and proficiency in analysing big data, preparing data for the modelling process, and then progressing to designing models.
One advantage of this credential is that it has no expiry date and does not need renewal; it also authorises the candidate's extensive knowledge in predictive Analytics.
Prerequisites:

knowledge and experience in data science and using Azure Machine Learning and Azure Databricks.

Exam Fee:

It costs $165 to

(Source)

register for the exam.

One advantage is that there is no need to attend proxy institutions to prepare for this exam, as Microsoft offers

free training materials

as well as an instructor-led course that is paid. There is a comprehensive collection of resources available to a candidate.

Expected Salary:

The job title typically offered is

Microsoft Data Scientist and

it typically fetches a yearly pay of $130,993.

(Source)
Why be a Data Analytics professional?
For those already working in the field of data, being a Data Analyst is one of the most viable options. The salary of a data analyst ranges from $65,000 to $85,000 depending on number of years of experience. This lucrative salary makes it worth the investment to get a certification and advance your skills to the next level so that you can work for multinational companies by interpreting and organising data and using this analysis to accelerate businesses. These certificates demonstrate that you have the required knowledge needed to operate data models of the volumes needed by big organizations.
1. Demand is more than supply
With the advent of the Information Age, there has been a huge boom in companies that either entirely or partially deal with IT. For many companies IT forms the core of their business. Every business has to deal with data, and it is crucial to get accurate insights from this data and use it to further business interests and expand profits. The interpretation of data also aims to guide them in the future to make the best business decisions.
Complex business intelligence algorithms are in place these days. They need trained professionals to operate them; since this field is relatively new, there is a shortage of experts. Thus, there are vacancies for data analyst positions with lucrative pay if one is qualified enough.
2.

Good pay with benefits
A data analyst is an extremely lucrative profession, with an average base pay of $71,909 (Source), employee benefits, a good work-home balance, and other perks. It has been consistently rated as being among the hottest careers of the decade and allows professionals to have a long and satisfying career.
Companies Hiring Certified Data Analytics Professionals
A California based brand, Oracle is a software company that is most famous for its data solutions. With over 130000 employees and a revenue of 39 billion, it is surely one of the bigger players in Data Analytics.
Unlike its name, this company is anything but micro, with more than 400 million worth of revenue. It provides a suite of analytical products along with business mobility solutions. It is a key player in the mobile space, working natively with Android and iOS.
One of the companies in the list which provides certifications and is also without a doubt one of the largest names in the field of Big Data, machine learning and Data Analytics, is SAS. The name SAS is derived from Statistical Analysis System. This company is trusted and has a solid reputation. It is also behind the SAS Institute for Data Science. Hence, SAS is the organisation you would want to go to if you're aiming for a long-term career in data science.
Conclusion
To conclude, big data and data Analytics are a field of endless opportunities. By investing in the right credential, one can pave the way to a viable and lucrative career path. Beware though, there are lots of companies that provide certifications, but only recognised and reputed credentials will give you the opportunities you are seeking. Hiring companies look for these certifications as a mark of authenticity of your hands-on experience and the amount of work you can handle effectively. Therefore, the credential you choose for yourself plays a vital role in the career you can have in the field of Data analytics.
Happy learning!
Search more articles here: Top Data Analytics Certifications
Read original article here: Top Data Analytics Certifications
---
Disclaimers and Denial of responsibility..!
---
Denial of responsibility!
TheTopMag.com is an automatic aggregator of all media around the world. In each content, the hyperlink to the primary source is specified. All trademarks belong to their rightful owners, all materials to their authors. If you are the owner of the content and do not want us to publish your materials, please contact us by
email – jamesonline999@gmail.com
. The content will be deleted within 72 hours.