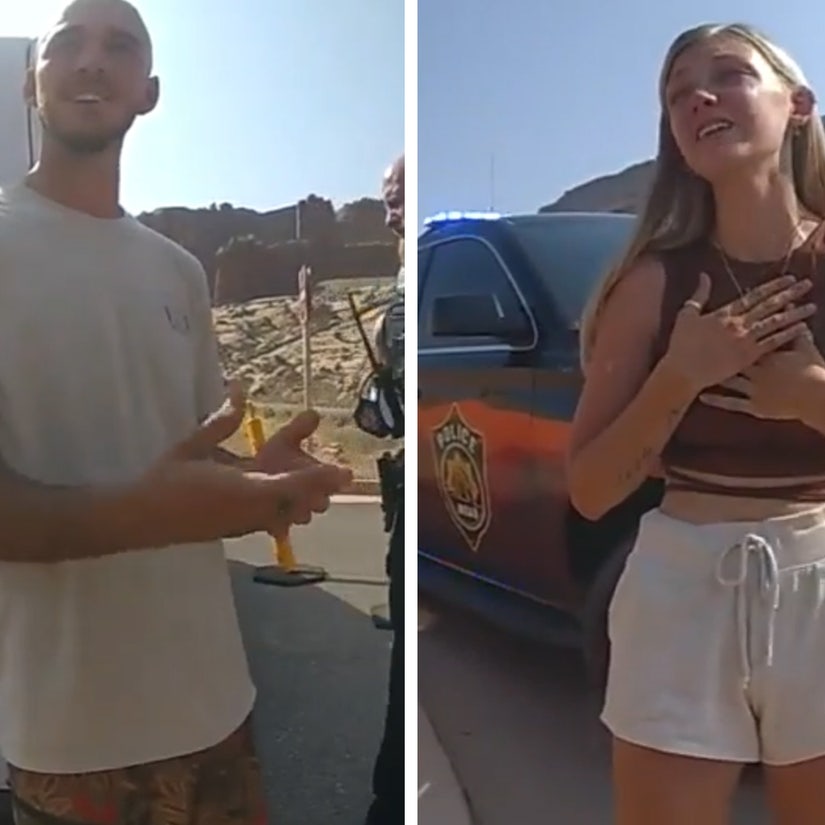 Gabby was the one almost charged with domestic assault.
update 9/16/2021 7:03 AM
---
Moab City Police Department in Utah have released body cam footage of their interaction with Brian Laundrie and Gabrielle Petito, two weeks before Gabby's last sighting.
An officer driving behind the van claims he saw it veer across the double yellow lines before striking a curb. Pulling it over he found Petito sobbing in the passenger seat, and Laundrie in the driver's with cuts to his face.
Separating and interviewing them, the officers discover they have had a fight, and determine that Petito was the aggressor — and Laundrie the victim. Sitting in the police car, Petito explains that she is "OCD", and was tidying the van and apologizing for being in a bad mood — before adding that she was very stressed having a lot of work to do on her computer.
She admitted yelling at and hitting Laundrie, conceding he had not hit her back, but grabbed her face. She said neither had been under the influence, as they do not drink. Explaining his side separately, Laundrie concurred his fiancé was "a little OCD", and had become angry because he had climbed into the van with dirty feet, which sparked the argument.
"We just had a little disagreement, she got a little worked up," he said. "Just little things… there's a lot of little things."
He insisted he didn't get "overtly physical", and was just trying to hold her off while she "swung" at him, with her nails and her rings. While he was clearly trying to play it down, the cuts to his face were still obvious. "I was trying to make her calm down, 'Look everyone's watching!' he told the officers.
Discussing what they had learned away from the couple, the officers said the only discrepancy in their stories was Laundrie claiming she had grabbed the wheel — which had caused the van to hit the curb — while she denied it. However the officers concluded that he was trying not to say she had hit him while he was driving, to prevent her from being charged with assault.
Nevertheless, the officers point out that the situation is no different than male-on-female domestic violence, and that they may have no choice but to arrest her — even if Laundrie doesn't want to press charges. The police then discuss the account of the witness who called it in, which they point out seems to line up with the couple's stories.
The witness said they did not see the Laundrie hit Petito; he saw him lock her out of the van, and her trying to get back in, eventually "clawing" her way in through the driver's door. He also said he saw Laundrie shove her, but couldn't tell if it was aggressive or defensive. "It sounds like she is the primary aggressor," the officer tells his colleagues.
"We cannot treat this – because he's bigger and stronger, and even if he's not wiling to press charges – we can't treat this differently than if it was male on female charges. And we're going to have to charge her," he adds.
The option for merely issuing a citation, which the officers appear to want to do, is blocked because per law, they cannot guarantee they are "not going to further risk each other's safety… but the problem is they live in the same vehicle."
The officer tells Laundrie that when enforcing the law, they "don't have discretion on domestic assault. At this point you are the victim of domestic assault."
"I definitely don't want to pursue anything, I love her and it was just a squabble," Laundrie tells them, even volunteering to go to jail in her place. The officers all discuss how to resolve the situation, clearly keen on letting the pair go, despite the law insisting Petito be detained and charged, and the couple separated.
"She doesn't want to not be with him tonight," one female colleague tells the lead investigator. "There's no choice in the matter," he tells her. The officers then appear to arrive at a solution: if they can determine Petito wasn't trying to hurt her fiance when she hit him, they can let her go.
"This is a very very important question; how you answer this question is going to determine what happens next," one of the officers slowly explains to her. "Think very hard before you answer the question. Do not answer it quickly. Think very hard: When you slapped him those times, where you attempting to cause him physical pain or physical impairment? What were you attempting to do? What was the reason behind the slapping? What were you attempting to accomplish by slapping him?"
"No," she immediately replies. "I was trying to get him to stop telling me to calm down."
"Doesn't sound like me like she attempted to injure him," the officer then tells the lead investigator, apparently satisfied. "It's your call. It's 100 percent you call. I support you either way."
After discussing the technicalities of the legal definition of assault at length, the officers ultimately decide they can let the couple go free. Delivering his decision, the officer tells Petito he is not citing her for domestic assault, but is separating them for the night — Petito in the van, Laundrie in a hotel — advising them not to contact each other until the next day
"If he doesn't have enough sense to stay separated, it's on him," one officer tells his colleagues out of earshot.
After driving him to his hotel, the officer leaves Laundrie with a final piece of advice: "Just remember my requests — I think it will make a big difference in your guys' next couple of weeks, at the very least."
Speaking with the Daily Mail, Petito's mother said the incident was "irrelevant." She added, "Two people traveling together with each other 24 hours a day, it's not going to be perfect, it was an argument, and that's all I'm going to say about it." At one point int he video, Gabby does appear to be talking to her parents on the phone.
update 9/15/2021 10:56 AM
---
Brian Laundrie is now officially a "person of interest" in the the disappearance of Gabrielle Petito, per law enforcement.
Police are keen to stress there is no evidence a crime has taken place. When asked why Laundrie had been named a person of interest, North Police police spokesman Josh Taylor replied: "I think most people would come to that conclusion in this case. He was the last person that we have information was around her. How you define person of interest is up to you, but certainly we are interested in talking to him."
"If she's out there we're doing everything in our power to bring her home," added Taylor.
On Tuesday, Laundrie finally broke his silence, via a statement by his lawyer Steven Bertolino.
"On behalf of the Laundrie family, it is our hope that the search for Miss Petito is successful and that Miss Petito is reunited with her family," it said. "On the advice of counsel, the Laundrie family is remaining in the background at this juncture and will have no further comment."
But according to police, that's not good enough. "They put out a release yesterday saying they remain in the background," Taylor told press. "That's not good enough. We need the details."
Meanwhile, a lawyer for the Petito family issued a statement of their own, urging Laundrie to reveal whatever he knows.
"Everyday the search for Gabby continues the Schmidt and Petito family becomes more desperate," the statement read, per ABC7. "They are frantically searching for answers and information in their daughter's disappearance while Brian sits in the comfort of his home."
"Brian claims he wants to sit in the background while we search for Gabby in the wilderness of the Grand Teton and Yellowstone national parks. Brian left Gabby in the wilderness with grizzly bears and wolves while he sits in the comfort of his home. In his home! Brian, how could you do this to Gabby? You selfishly remain silent while Gabby is all alone in the wilderness. Brian, your silence is reprehensible!"
"We beg you to do the right thing and help us bring Gabby home. Brian, whatever happened in Wyoming, happened. The only thing you can control is what you do now. Tell us where Gabby is. You tarnish your love for her with your silence."
In an interview with Daily Mail, Gabrielle's mom Nicole revealed the final text that came from her daughter's phone; but not necessarily, she believes, from her daughter herself. "No service in Yosemite," the August 30 text reads, sent three days after Gabrielle was last seen, 800 miles away heading for Yellowstone, Wyoming.
"That text was NOT from Gabby I know it!" Nicole told the outlet. She believes other texts from the phone may have come from Laundrie, "which may not be the truth, but it's a possibility."
"It was just a little bit weird, the things that she was saying," the mother said. She also said she had texted both Laundrie and his mother since — but got no replies.
On Tuesday, it also emerged that Utah police had been called to an "incident" involving the couple, two weeks before she disappeared, but nothing came of it. "Our officers did respond to an incident involving Brian Laundrie and Gabrielle Petito on 12 August 2021 however, neither Brian or Gabrielle were the reporting party," Moab Chief of Police Bret Edge told Fox News.
"Officers conducted an investigation and determined that insufficient evidence existed to justify criminal charges," added Edege. Nicole, however, told Daily Mail this may not have been a sinister event.
"It's irrelevant. Two people traveling together with each other 24 hours a day, it's not going to be perfect, it was an argument, and that's all I'm going to say about it," she said.
Meanwhile, North Port Police Chief Todd Garrison has joined those calling on Laundrie to share what information he has.
"As a father, I can imagine the pain and suffering Gabby's family is going through," he said. "We are pleading with anyone, including Brian, to share information with us on her whereabouts in the past few weeks. The lack of information from Brian is hindering the investigation. The answers will eventually come out."
According to police, Laundrie returned home to Florida, alone, on September 1 – ten days before Gabrielle's family reported her missing. While he was initially described as her boyfriend, several outlets report the couple are engaged.
update 9/14/2021 7:11 AM
---
Brian Laundrie's parents are reportedly refusing to let police speak to him.
"We have not talked with him, we would love to talk to him,' said North Port Police spokesman Josh Taylor told Daily Mail.
"He is under no obligation to talk to us – and he has not. And we don't even know yet if a crime happened."
When asked if officers had turned up at the home to request to ask him about Gabrielle's disappearance, he replied: "Of course."
"We did not actually talk to him. We talked to his parents. And they did not want to make him available to do that."
Police have removed the van however to scan it for clues.
"We have the vehicle, we took it away very late Saturday night into Sunday," Taylor added. "We take it, we process it for evidence – fingerprints, any evidentiary value that we think is possible"
"So we have that vehicle. We are continuing to try to piece the things together. The situation is obviously very fluid."
In a statement, North Port Police confirmed it was working with Suffolk County PD on the missing persons case.
"We currently have no definitive information that a crime took place here in North Port. With that said, the circumstances are odd."
original story 9/13/2021 9:43 AM
---
The family of a 22-year-old New York woman are pleading for information after their daughter went missing during a "van-life" cross country camping trip.
Gabrielle Petito was reported missing on Saturday by her mother Nichole Schmidt, after her daughter's boyfriend returned home from the trip without her.
Petito and her partner — identified on their social media as Brian Laundrie — set out on July 2 together in their converted van, documenting their travels on Instagram and YouTube.
"Recently we decided to downsize our life into a little Ford transit connect to travel across the United States!" they wrote on their Nomadic Statik YouTube channel:
They travelled from Florida to New York, to Utah to Wyoming, and planned to finish up in Portland, Oregon; but Petito hasn't been seen since stopping at Grand Teton National Park in Wyoming.
Her boyfriend has since returned to Florida in the van, alone.
Her mother told Fox News she Facetimed with her daughter on August 25, the last time she spoke with her directly. Although she received texts from her daughter's phone up until August 30, she cannot be sure who was sending them.
"I don't know if she left Grand Teton or not," she said. "I did receive a text from her on the 27th and the 30th, but I don't know if it was technically her or not, because it was just a text. I didn't verbally speak to her."
Her parents told Newsday she was traveling with her boyfriend, but couldn't comment any further on him due to an ongoing investigation.
"[It's like] drowning with your hands tied behind you," Gabrielle's father Joe said. "You can't describe it. There's nothing you can do. You can't control anything."
Suffolk County Police Department in New York, in Petito's hometown, are now investigating the disappearance.
They describe her as 5'5″ tall and 110lbs, with has blonde hair and blue eyes. She has several tattoos, including one on her finger, and one on her forearm that reads "let it be."
Detectives have also since recovered the van. Laundrie has yet to make a statement on the disappearance; according to Daily Mail, he has since hired an attorney.
"I can't say much, but she's no longer with the van," Gabrielle's mom told Fox. "I don't want to say anything more than that but for people looking for her, I want them to look for her now, not look for that van anymore."
Gabrielle's last Instagram post was shared on August 25 — the last day she spoke to her mother — at the Monarch Wall in Ogden, Utah:
Laundrie's last post meanwhile came on August 13, in Moab, Utah:
A GoFundMe to aid in the search has already raised $7k.
"While we are working with the FBI, multiple law enforcement agencies, and outside resources to pursue any and all leads the family will need funds and resources to travel and pay for expenses related to an investigation and search on the other side of the country, any help is appreciated," it reads.
"She's very, very free spirited," her father said. "Clothes didn't impress her. Cars didn't impress her. Experiences — that's what impressed her."
"I just want people to keep looking and not stop until we find her," her mother added. "She's out there somewhere. … We won't stop until we find her."
Search more articles here: Utah Police Body Cam Reveals Aftermath of Fight Between Van-Life
Read original article here: Utah Police Body Cam Reveals Aftermath of Fight Between Van-Life
---
Disclaimers and Denial of responsibility..!
---
Denial of responsibility!
TheTopMag.com is an automatic aggregator of all media around the world. In each content, the hyperlink to the primary source is specified. All trademarks belong to their rightful owners, all materials to their authors. If you are the owner of the content and do not want us to publish your materials, please contact us by
email – jamesonline999@gmail.com
. The content will be deleted within 72 hours.